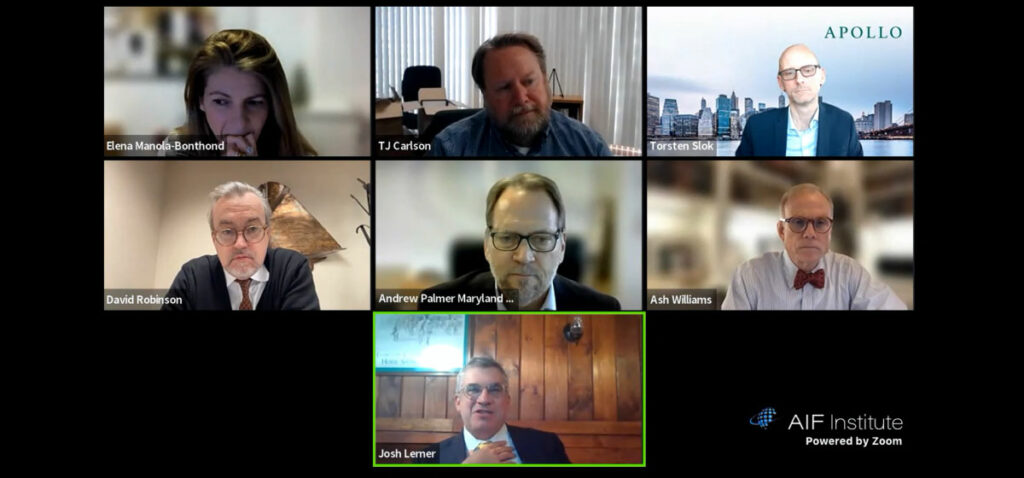 2022 AIF Annual Investors' Meeting
January 11–12 | Live Online
The comprehensive two-day programming began with a panel discussion on inflation in alternative investments, led by Josh Lerner, Ph.D. and David Robinson, Ph.D., and concluded with a keynote from NYC Comptroller Brad Lander. Selected highlights of the 2022 AIF Annual Investors' Meeting include:
Panel Discussion with Leading Academics: The Implications of Inflation on Alternative Investing
Data indicates that rising inflation will have long-term implications for all asset classes. This is especially true in the case of alternative investments which are often used as an inflation hedge. In this panel, Dr. Josh Lerner, Ph.D., Jacob H. Schiff Professor of Investment Banking at Harvard Business School and Dr. David Robinson, Ph.D.James and Gail Vander Weide Professor of Finance at The Fuqua School of Business, Duke University along with several institutional investors discuss how they are thinking through portfolio construction in light of rising inflation.
Featured Academic Research
Over the course of two presentations, two experts on private capital explore unique findings about hedge funds and private equity. Dr. Tim Jenkinson, Ph.D, Professor of Finance at Said Business School, University of Oxford looks at the distribution of return within lower performing private equity funds over time. Dr. Gregory Brown, Ph.D, Sarah Graham Kenan Distinguished Scholar of Finance and Research Director at the Institute for Private Capital, UNC Kenan-Flagler Business School looks at the impact of missing data when it comes to assessing hedge fund returns.
AIF Institute Center for ESG and Sustainable Investing Panel
Investors continue to put new allocations into sustainable funds. Whether the strategy is actively managed, passive, public or private – ESG data are becoming key factors for making investment decisions worldwide. That trend is likely to increase as US-based investors rush to catch up with global peers and investors in the EU and Asia move toward more rigorous ESG targets. In this panel, academic and legal experts, as well as portfolio managers, discuss approaches to investing through an ESG lens.
AIF Institute Center of Financial Innovation Panel: Best Practices in Allocation and Due Diligence of Crypto Investments
Cryptocurrency is one of the fastest growing asset classes available today, but investing in it can be complex for institutions. Due diligence, valuations, and custodial issues are all still very much evolving along with the asset class itself. However, some best practices are beginning to emerge that could help institutional investors make meaningful allocations while mitigating potential risks. This panel led by investors and compliance specialists discusses how institutions are navigating cryptocurrency investments.