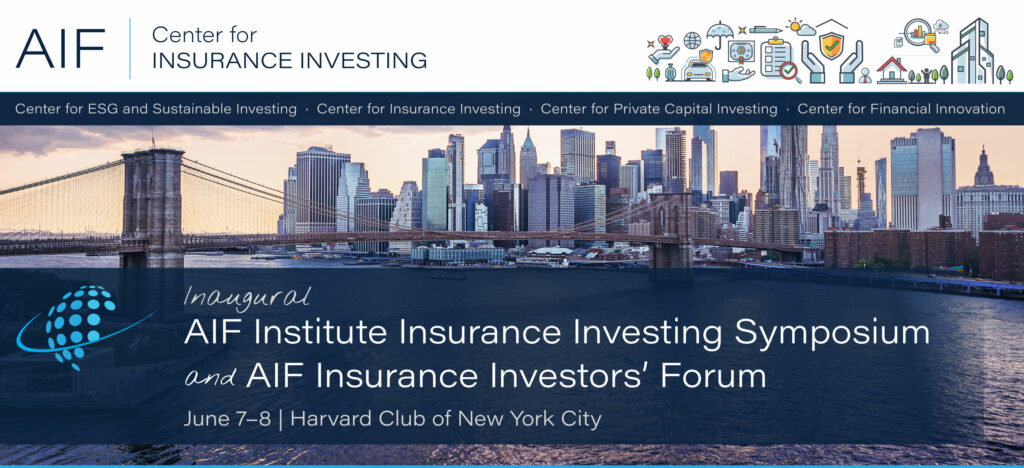 2022 AIF Institute Insurance Investing Symposium and AIF Insurance Investors' Forum
AIF invites you to join us in-person for two days of programming geared toward institutional investment professionals deploying the capital of insurance companies globally:
2022 AIF Institute Center for Insurance Investing (the Insurance Center) Symposium and Investor and Faculty Board Dinner
June 7 | Harvard Club of New York City
(Open only to insurance company investors, investment consultants and Insurance Center Faculty)


2022 AIF Insurance Investors' Forum
June 8 | Harvard Club of New York City
(Open only to insurance company investors, investment consultants, Insurance Center Faculty and AIF member firms)
The mission of the AIF Institute Center for Insurance Investing is to serve as an independent and unbiased center for the study of insurance company investment issues and to help insurance companies globally achieve their investment objectives and perform their socially essential risk-sharing functions.
Insurance company investors can engage with their peer investors and subject matter experts to discuss cutting-edge investment ideas and important regulatory investment trends and issues.
This Insurance Center Symposium will be dedicated to showcasing the work of the Insurance Center and delineating its scope and process.
Symposium Welcome Remarks
Insurance Regulatory Topics Impacting Investments
Session Leader:
Ed Toy, Investment Specialist, Practice Lead – Investments, Risk & Regulatory Consulting and Fellow, AIF Institute
Session Participants: (participating virtually and for this session only)
Philip Barlow, Associate Commissioner, District of Columbia Department of Insurance, Securities and Banking


Justin Schrader, Chief Financial Examiner, State of Nebraska


Vincent Tsang, Actuary, Illinois Department of Insurance

Many insurance companies have been seeking alternative investment vehicles such as structured assets to enhance the yield of their traditional investment portfolios throughout a sustained low interest rate environment. The increase in non-traditional investments has drawn increased attention from the NAIC and insurance regulators. This session will discuss this topic from various regulatory perspectives, including liquidity, required capital and modeling issues. The participants are all public officials who are responsible for monitoring the financial solvency of their domestic insurance companies and who actively participate in NAIC working groups covering this topic.
Developments in Capital Efficiency
Session Leader:
Martha Leiper, Executive Vice President and CIO, Unum

Session Participants: (participating for this session only)
Jia Jian, Associate Director – Asset Risk Analysis, A.M. Best Company


Jeremy King, Managing Director, Insight Investment


Paul Forrester, Partner, Mayer Brown


Larry Hamilton, Partner, US Insurance Regulatory & Enforcement, Mayer Brown


Josh Dobiac, Principal and Risk Consultant, Milliman Financial Risk Management, LLC


Ranbir Hira, Managing Director, Apogem Capital


Zirong Zhang, Vice President, Lincoln Financial Group
This session will analyze how investors are working with regulators and rating agencies to seek greater yield while preserving the financial stability of the insurance industry. It will include a discussion of the Long Horizon Equity Risk-Based Capital (RBC) Project, a review of the NAIC's treatment of structured securities and the rating agencies' role in the process.
Working Luncheon​ Discussion: Best Use of the Insurance Center as an Investor Resource
Following lunch, the Insurance Center will  hold a brainstorming session among its Board and Faculty Members to help determine the best use of the Insurance Center by insurance company investors, including reviewing proposals from the Insurance Center Board and Faculty regarding:
The creation and operation of an investor portal by the Insurance Center. (Proposed by Joshua Rosen, Portfolio Manager, Resolution Life)

The creation and updating of a user-friendly guide to RBCs for insurance company investors. (Proposed by Andrew Coupe, Senior Managing Director, Jackson National Life Insurance)

Strategic relationships the Insurance Center should cultivate with industry organizations both domestically and globally.

Best approach to ongoing, deep dive, webinar series exploring important and timely insurance company investment topics.

Crossover with other AIF Institute Centers of Excellence (ESG and Sustainability, Financial Innovation and Private Capital Investing)
The Intersection of Investing and Risk Management​
Session Leaders:
Mike Huff, Senior Director, Portfolio Management and Asset Allocation, TIAA


Jared Klyman, Head of Insurance Strategy, Goldman Sachs 


Stephen Smith, Head of Insurance Analytics, Neuberger Berman
This session will be a general discussion among the Insurance Center Board Faculty and Board about insurance companies' risk management and how it drives their investment strategy and execution.
How do investment strategy, ALM/LDI considerations, Risk Management and Capital Management interact?


What key lenses are used for measuring risk?  Mark-to-market, impact to capital (RBC, Economic or other), GAAP earnings volatility, liquidity risk?  What horizon is risk measured over?  Is there a primary risk measure? How are these risk prioritized?


How is risk and return evaluated differently across various asset classes?  Private equity vs Real Estate vs Public Credit vs Private Credit


Are you being paid for taking various risks? What's the return on capital and return on risk?
Incorporating ESG Factors into Insurance Company Investment Policy and Practice
This session will be a crossover between the AIF Institute's Center for ESG and Sustainable Investing and its Center for Insurance Investing. It will explore how ESG factors are being integrated into insurance companies' portfolios' investment decisions.
Session Leader:
Karyn Williams, Regional Investment Manager, North America, Zurich Insurance
Panelists:
Emilia Wiener, Managing Director and Head of Fixed Income/General Account, TIAA


Kaitlin Bergan, Senior Platform Strategist, BlackRock


Michelle Dunstan, Chief Responsibility Officer, AllianceBernstein


Trip O'Shea, Investment Director, Sustainable Ocean Fund, Mirova
Dinner ​and Fireside Chat
Dinner will feature a Fireside Chat between GE Capital, North American Life & Health CIO Anthony Grandolfo and Apollo Global Management CEO and Co-Founder Marc Rowan regarding investment trends in asset management-owned insurance companies.
The 2022 AIF Insurance Investors' Forum is dedicated to discussion of investments at the portfolio and alternative asset class levels. It will be held in a roundtable discussion format and include subject matter expert investors, consultants, and managers.
Investor Roundtable on Portfolio Construction
Real Estate Roundtable Session I
Session Leaders:
Nicki Livanos, Director, Equitable


Rob Kochis, Partner, The Townsend Group, an Aon Company
Real Estate Roundtable Session II
Session Leaders:
Nicki Livanos, Director, Equitable


Rob Kochis, Partner, The Townsend Group, an Aon Company
Private Equity Roundtable
Session Leader:
Ksenija Jovanovic, Director, Alternative Assets, Aflac Global Investments
Luncheon and Presentation
Presenter:
Mike Siegel, Global Head of Insurance Asset Management and Liquidity Solutions, Goldman Sachs
Presentation of the findings of Goldman Sachs Insurance Asset Management 2022 Insurance Survey. This will be followed by breakout group discussions that will be facilitated by the Insurance Center's Faculty Member Firms.
Private Credit Roundtable Session I: Core Strategies
Session Leader:
Nelson Pereira, Investment Director, Mercer Alternatives – U.S. Insurance
Private Credit Roundtable Session II: Specialized Strategies
Session Leaders:
Alex Dauria, Senior Portfolio Advisor, Aksia


Ilya Riskin, Senior Analyst, Aksia
Infrastructure Roundtable
Session Leader:
Mark White, Partner, Head of Real Assets, Albourne
2022 AIF Insurance Investors' Forum Participant List
The investors and consultants below have confirmed their desire to participate (subject to any required internal approvals and final schedules)
Aflac
Ksenija Jovanovic, Director, Alternative Assets
AIG
Farhad Mian, Chief Investment Officer
Aksia
Alex Dauria, Senior Portfolio Advisor
Ilya Riskin, Senior Analyst
Allianz Capital Partners
Worth Groome, Director
Athene 
Marc Rowan, Member, Board of Directors and Executive Committee
bfinance
Trevor Castledine, Senior Director, Private Markets Research
Neil Holmes, Director – Insurance
Guy Hopgood, Director
Cliffwater
George Bumeder, Managing Director
Corebridge Financial (formerly AIG Life & Retirement)
Felix Lurye, Managing Director, Insurance Portfolio Management
Cumberland Mutual
Jeff Ritter, Investments and Strategic Initiatives
DB (DongBo) Insurance
Yong Park, President, DB Advisory Americas
DLI (Dai-Ichi Life) North America
Hiromi Miyata, Vice President
Albert Tozawa, Vice President
Equitable Financial Life Insurance Co.
Nicki Livanos, Director, Real Estate Investments
GE Capital, North American Life & Health
Anthony Grandolfo, Chief Investment Officer
John Gao, Director, Investment Management & Risk Analytics
Bobby Hagedorn, PM – Alternative Investments
Genworth
Kelly Saltzgaber, Head of Portfolio Management
Knights of Columbus
Gilles Marchand, Vice President
Lincoln Financial Group
Zirong Zhang, Vice President
MassMutual
Eric Partlan, Head of Portfolio Management
Philip Titolo, Head of Direct Private Investments
Mercer
Nelson Pereira, Investment Director
Richard Silvan, Principal, Investment Consultant
Mutual of Omaha
Juan Prieto, Head of Alternative Investments
Nippon Life
Joseph Choi, Assistant Director, Analyst
PPM America
Andrew Coupe, Senior Managing Director
Resolution Life
Joshua Rosen, Portfolio Manager
The Townsend Group, an Aon Company
Rob Kochis, Partner
TIAA
Emilia Wiener, Managing Director and Head of Fixed Income/General Account
Wen Fu Wu, Managing Director, Head of Asset Allocation
Mike Huff, Senior Director, Portfolio Management and Asset Allocation
Transverse Insurance Group
Mark Hong, Executive Vice President / Chief Investment Officer
David Zakutansky, Chief Operating Officer – Asset Management
Unum Group
Martha Leiper, Chief Investment Officer
Zurich Alternative Asset Management
David Tsung, Managing Director
Zurich Insurance
Karyn Williams, Regional Investment Manager, North America